The process of buying and selling websites can be easily compared to real estate investment. It is no different than buying any other tangible asset and expecting to make a return. While it can certainly be a great way to make money, it is important to understand key factors that come with this type of investment.

Approach it like any other investment

Acknowledging the fact that there is as much risk involved as with any other investment is crucial. It will be necessary to set up a budget and identify your limits. The main key here is to find undervalued websites that could be improved and sold for profit. However, simply purchasing them might not be enough. You will have to take specific measures and figure out what needs to be done to grow the website's value.
Conduct a thorough market research

As you would approach traditional investments such as stocks or real estate, the same way you should approach digital business. Identifying current or up-and-coming trends in the market is necessary for you to have an upper hand and maximize the full potential of your investment. One of the proper ways to do it is by looking at different niche areas that have the potential to expand alongside sustainable business models. A great example would be SaaS (Software as a Service) type business model which is easily tracked through its subscriber turnover rate. Also, it is important to avoid any temporary trends which are only popular for the moment.
Analyze the potential purchase
To be fully sure about the website you are interested in, you have to evaluate it from different angles. The more information you can collect, the more confident you will be when choosing the right website as your investment. There are several things you need to look at when approaching your next purchase:

Identify revenue streams and traffic. This will give you an initial idea of where the business is currently standing. You can do so with tools such as Google Analytics. It might also be important to look at whether the website is showing consistency with its revenue streams, contains passive income and has room for improvements.
Identify strategies that are currently being used. Analyzing what measures are being taken to improve the content strategy or SEO can give you an idea of what could be done for you to improve the website even further and generate more traffic.
Identify why the website is being sold. There can be multiple reasons behind it. Perhaps, the owner is ready to move on or the site has run out of its potential. Understanding that will give you an idea of whether the investment is worth the time.
Verify the ownership. You want to know who is behind the website and a great way to do that is by actually contacting the owner directly or finding information about him online.
Take advantage of professional services. If you happen to struggle with the process of purchasing the site, you can contact website brokers who are specialists in this area of expertise to help you avoid any mistakes when negotiating a deal.
Use the right marketplace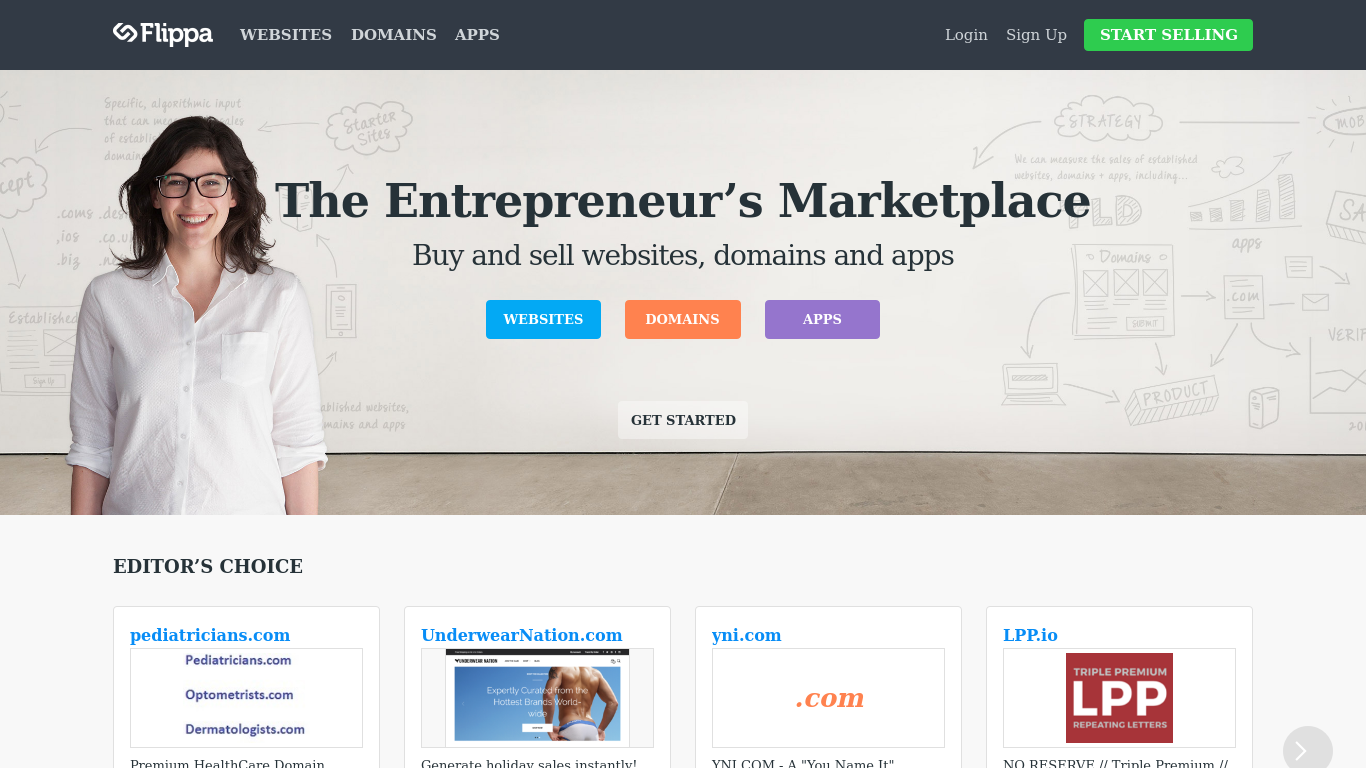 When purchasing a website, you have to be aware that most of the best offers will probably cost you from 10x to 17x of the site's monthly income. A great profit earner of $2,000 a month could potentially cost around $24,000 which is a reasonable asking price. Nonetheless, every situation is unique and you might be able to get great deals if you manage to identify the potential in some undervalued websites. Here are a couple of common marketplaces to look for digital businesses:

2. https://www.bizbuysell.com/

Make the deal
This is where you will have to channel your negotiation skills. To find the middle ground, you will need to communicate with the seller. In this case, the more due diligence you'll do on your potential purchase, the better bargaining position you will have. Knowing some of the flaws of the website will give you an advantage. A good way to start the negotiation process is by offering around 70% of the asking price which gives enough room to make adjustments.

Improve the website

After purchasing the website, you will now have to work on its performance which will increase the website's value and make it more attractive for the buyers. That can be achieved by growing the monthly profit. Here are some of the actions that could be taken to reach that:

● Improve your social media strategy or introduce paid advertising to generate more revenue.
● Provide more quality content that will improve the website's traffic through the right keywords and SEO.
● Look for potential partnerships that could bring more people to the site.
● Connect with your site visitors through an email marketing strategy.
● Offer a better quality of customer service.

Most of these practices won't require any expensive investment. The most important thing is to put enough time and effort into making your website as great as possible. However, there is another key factor that should be taken into account. Having a website that takes little time with its maintenance will be much more attractive for the buyers. Therefore, taking advantage of the automatization process is going to make the website easier to sell.
Sell the website

If your website is generating enough traffic and revenue and you believe that it is time to part ways with it, you should go to the very same marketplace you got it from. When putting up your website for sale, you want to make sure that you're providing enough information about the site's performance. It is also important to be sure that you're going to make a positive return on your investment after you sell the site. Therefore, having all the calculations in check is necessary.

Once you get approached by the buyer, be ready to answer all of the questions and try to stay as transparent as possible. If you're uncertain with the first offer you can always compare it with the other sites that have been sold in the marketplace. Finding a middle ground is the main goal for both of the parties. A good range to be in is between 12x to 24x monthly profit multiplies.

Nonetheless, these steps might appear as difficult and time-consuming for someone who does not have enough experience in this area. The best way to maximize your return on investment could be by putting it in the hands of professional website broker services such as Dotexit. Our team has the tools and expertise to turn your website into a competitive online business and grow its value. With our network of potential buyers, you will save a lot of time and get to reap the benefits much faster. Dotexit will take all the necessary steps to make sure that you get the price you deserve.

Conclusion

Being good at buying and selling websites comes with experience. The more you do it, the more confident you will be with your approach. After gaining more knowledge over time, you won't necessarily have to do everything yourself. Assigning other people to do different tasks will save you a lot of time. However, it is important to understand that selling digital businesses holds the same risk as any other form of investment.